InsERT - a leading software vendor in the SME market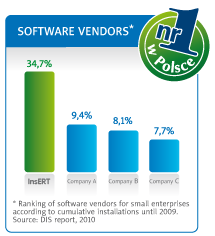 InsERT S.A. is a leading vendor developing software for small- and medium-sized companies in Poland. Since our establishment in 1992, InsERT has sold an unmatched 400 thousand licenses for its products, thus supporting over 250 thousand enterprises. With a single software license allowing a number of employees to use our system, hundreds of people in Poland use InsERT software every day.
At InsERT we develop user-friendly software and ensure they are intuitive and easy to use while having all the functionalities required by sales, accounting, financial or HR departments.
With the company's extensive experience and its strong focus on state-of-the-art, user-friendly solutions, InsERT's main strategy has been to develop multifunctional and complex yet easy to use systems. Our key software users are managers, payroll specialists, financial consultants, accounting offices, owners of shops, wholesales and commercial networks, manufacturers with own retail sales network and others.
Developed by a team of dozens of experienced software developers, InsERT systems have been appreciated for: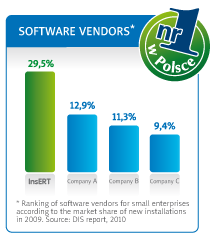 intuitive and easy-to-use interface;
rich functionality;
reliability;
professional before- and after-sale support through software distributors and authorised servicemen;
professional consultants offering technical assistance;
regular upgrades including legal changes and user suggestions;
state-of-the-art quality at affordable price.
The state-of-the-art quality of our software has been confirmed by numerous accolades and awards given to InsERT at prestigious competitions. Not only have InsERT systems been the most frequently bought software by Polish SME owners, but it has also been selected by the Polish Ministry of Education as a teaching standard at secondary schools of economics.